(31 Mar 2021)
TUMI has unveiled a new collection designed and developed in
partnership with luxury supercar maker and Formula 1 team,
McLaren.
The collection is comprised of nine
pieces, each encompassing elements of McLaren's sleek, bold
supercars and race cars. All are highlighted with McLaren's
signature Papaya colourway and feature CX6 carbon fibre accents.
A key travel piece is the Aero International
Expandable 4-Wheel Carry-On (pictured) crafted in a hybrid of materials, including Tegris, an
extremely hard-wearing thermoplastic composite found in race cars.
The hard shell is contrasted by a moulded-fabric front panel with
a supercar-influenced design that is echoed throughout the
collaboration. The interior features a compression
strap that takes its cues from the six-point racing harnesses
found in its race cars and track-only models such as the
limited-edition McLaren Senna GTR.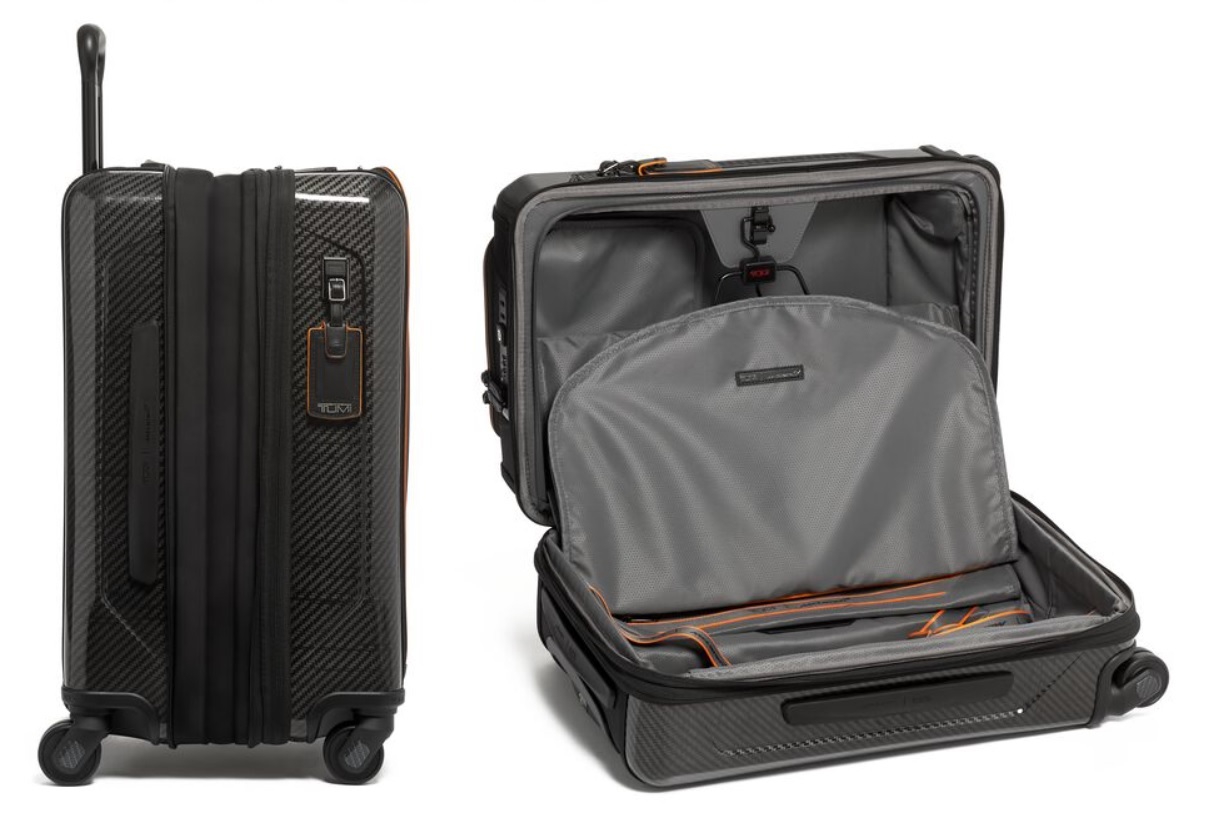 The Velocity Backpack has a USB port, padded laptop compartment,
and TUMI's "Add-a-Bag" sleeve
that makes it a fitting companion to the collection's carry-on.
The Orbit Small Packing Cube, Trace Expandable Organizer,
and split compartment Teron Travel Kit are ultra-portable
accessories to keep belongings protected, organised, and
readily available through every leg of a journey.
There is also a Torque Sling and Lumin Utility Pouch
for light-carry and hands-free
days.
Victor Sanz, Creative Director, TUMI said,
"For me, this is the ultimate collaboration as TUMI and McLaren
have an innate synergy. We're two like-minded brands who share the
same values—unparalleled quality, technical innovation and design
excellence. The value of this partnership, however, extends beyond
the product. With a keen focus on lifestyle, we design for the
betterment of the customer experience. With McLaren's advanced technology and our top-of-the-line materials, our gear can tackle
the most arduous excursions and still effortlessly translate into
daily life."
The Aero International Expandable 4-Wheel Carry-On
is priced at HK$ 12,200 in Hong Kong and  £845 in the UK.
The collection is available globally from 31 March
2021.
See latest

Travel Industry News,
Video
Interviews,
Podcasts
and other
news regarding:

COVID19,

TUMI,

Baggage,

Luggage,

McLaren.
Source link