(16 May 2021)
New research from Amadeus reveals how the hospitality
industry worldwide is adapting to the complex and ever-changing
working environment that COVID19 has created.
Business intelligence data from Amadeus Demand360
shows that hotel occupancy levels are now on an upward trajectory,
reaching 46% in April 2021, up from the low point of just 13% in
April 2020.
Australia and New Zealand, in particular, recorded
a steady increase in occupancy levels from 30% to 60% in February
– April 2021, surpassing global occupancy rates. The results are
aligned with the recent quarantine-free travel bubble between
Australia and New Zealand.
On a global level, the data shows the booking lead
time is lengthening, indicating growing consumer confidence to
plan ahead and in the generous cancelation policies currently
available.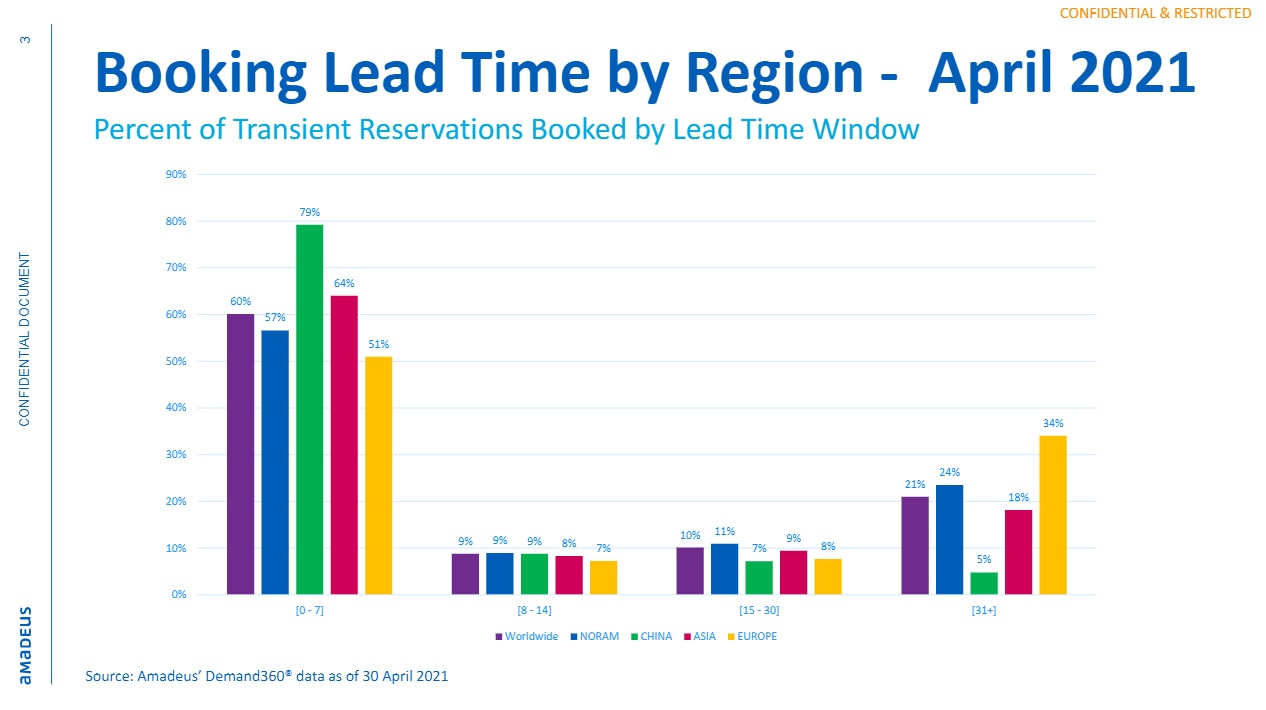 For much of the past year, nearly all reservations
across the world were made within 0-7 days of travel. In recent
weeks, bookings made on the same day of travel, which are the most
problematic for the industry to accommodate, have shrunk globally
from 39% the first week of 2021 to 23% the week of 25 April 2021,
and 31-60 days bookings increased from 6% the first week of 2021
to 11% the week of 25 April 2021.
The Rebuilding Hospitality report incorporates a
survey of 688 global hoteliers delivering new insights into
current sentiment and plans:
• Significant growth optimism: There is a sense of
optimism as 30% of hoteliers anticipate opening one or multiple
sites in 2021.
• Leisure travelers are driving recovery: The
majority (63%) of hoteliers worldwide think that leisure travel
will drive their recovery with domestic leisure by far the highest
contributor (45%). In line with this, Amadeus data shows that US,
China, and the rest of Asia are starting to see an increase in OTA
booking volume, shifting the focus away from a dependence on
direct bookings during the pandemic.
• Recruiting will be a high priority: Over half
(59%) of global hoteliers anticipate that they will need to hire
new staff in 2021.
• Opinion on vaccine passports divided amongst
hoteliers: Over half of Asian hoteliers say they are considering
asking for vaccine passports before permitting guests to stay
whereas just under half of hoteliers in the Americas say they will
definitely not be adopting this approach. In EMEA, nearly half of
hoteliers are uncertain on their strategy in this area.
When considering the aspects of the pandemic
pivots that will be here for the longer term, the report reveals:
• Enhanced hygiene measures are here to stay: A
third (32%) of hoteliers think that they will always need
significant social distancing, sanitization and visible hygiene
measures.
• Long-term reduction in guest contact and
stayover cleans: 20% of global hoteliers indicate they will keep
interaction between staff and guests to a minimum for the long
term, and 21% plan to reduce daily housekeeping for guests.
• Personalization could help cross the contactless
hospitality divide: Over a quarter of respondents (30%) said that
contactless tech to support personalized guest experiences was one
of the developments in hospitality they were most excited about as
we emerge from the pandemic. Around one in four hoteliers (24%)
went on to say they would be turning to technology to support
personalized experiences making sure the 'human touch' of
hospitality is not lost.
• Work 'staycations' and long stay rental
investments: Creative business pivots like offering work 'staycations'
and investment in facilities that help travelers elongate stays
have helped hoteliers test out new strategies to access new guest
segments. Hoteliers report that these will stay as part of the
portfolio for the long-term.
Maria Taylor, Head of Commercial, Asia-Pacific,
Hospitality, Amadeus, said, "From our survey, nearly half of hoteliers
(48%) across Asia-Pacific said they expect pre-pandemic levels of
occupancy to return in 2022. And those expectations are supported
by our data, as Australia and New Zealand's occupancy growth in
the first months of this year reflect that strong appetite for
travel. Meanwhile, technology continues to play a central role to
help hoteliers adapt to changing traveler needs, as 1 in 3
hoteliers surveyed in Asia Pacific (33%) are turning to
contactless technology to enhance guest experiences. At Amadeus,
we will continue to support our partners as we continue to rebuild
the travel industry together."
The Rebuilding Hospitality report was managed by
Amadeus and conducted anonymously with hoteliers in March
and April 2021. The 33-page (4.7MB) report can be downloaded
here.
See latest

Travel Industry News,
Video
Interviews,
Podcasts
and other
news regarding:

COVID19,

Amadeus,

Trends,

Outlook,

Forecast.
Source link