(03 May 2021)
New World has signed a management agreement for a new
hotel in Niseko, Japan.
Scheduled to open in 2023, the New World La Plume
Niseko Resort will occupy nearly
nine acres within the lush forest land between Mount Yotei and
Mount Annupuri in Hokkaido.
The area is popular with international and
domestic travellers because of the scenery and abundance of
outdoor experiences, including premier skiing and golf, as well as
to renowned restaurants and shops in the nearby Niseko Village.
The resort's architecture is
being led by distinguished architect Kazuko Okuyama of Daiken
Design Co., with interiors by Norihiko Shinya, of S.D.S
International.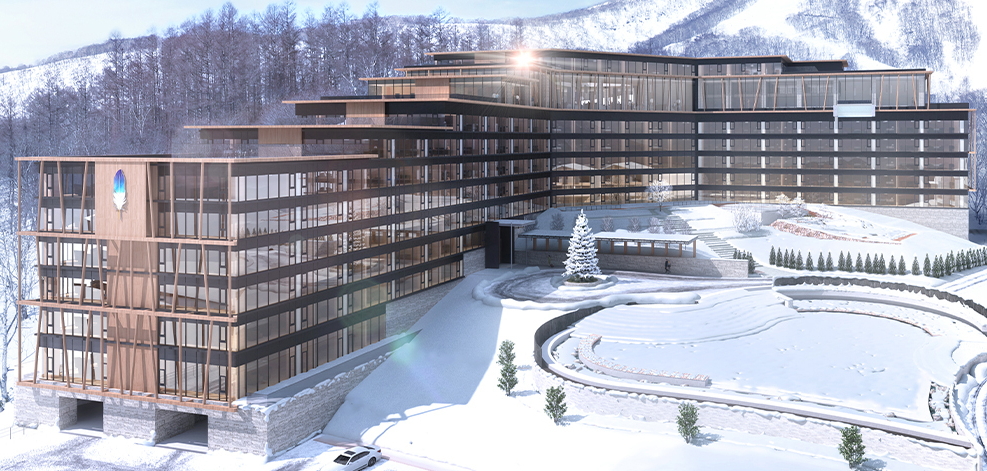 Upon completion, the resort will feature 219 guestrooms and 5
villas, each with a kitchen or
kitchenette. Select accommodation
will also include private hot springs and fireplaces.
For those looking to occupy
their own permanent space, the property will offer for-sale
condos, as well as villas that are each independently built to
provide a spacious retreat.
Amenities will include two restaurants
and bars comprised of a signature restaurant, all-day eatery and
lobby lounge.
The property will also have an outdoor deck on the
10th floor with panoramic views of the landscape, a pool, gym,
indoor and outdoor Onsen facilities, as well as a children's club.
Outdoor activities include,
skiing, snowboarding, snowmobiling and snowshoeing, to warm
weather experiences including canoeing, rafting and fishing on the
river or horseback riding, mountain biking, golfing and hot air
ballooning.
"Japan has such a
stunningly vibrant culture and has long been a destination of
interest for New World Hotels & Resorts, especially in recent
years as we've continued to grow the brand throughout Asia," said
Sonia Cheng, chief executive officer of Rosewood Hotel Group. "One
of the top ski destinations in the world and largest in the
continent, Niseko is cherished for its rich offerings, captivating
landscape and plethora of activities."
Additional projects in New World's development
pipeline in the region include New
World Jaipur Resort (India), New World Hoiana Hotel (Vietnam), New
World Nha Trang Hotel (Vietnam) and New World Phu Ouoc Resort
(Vietnam).
See latest

Travel Industry News,
Video
Interviews,
Podcasts
and other
news regarding:

COVID19,

New World,

Niseko,

Ski,

Japan.
Source link