(24 May 2021)
Changi Airport in Singapore has implemented
significant measures to ensure that airport workers, passengers
and visitors are well protected from the risks of COVID19
transmission.
While the airport, frequently voted the best
airport in the world, had been able to keep its
airport operations safe over the last 16 months through many
layers of stringent safety protocols, the more virulent B.1.617
strain, which was first discovered in India, still managed to
penetrate its defences resulting in airport workers, their families and members
of the public being infected.
The new measures being introduced follow an
operational analysis of the recent outbreak. There will be
additional infection-control measures airport-wide to minimise
virus spread in light of the more transmissible COVID19 variant,
as follows: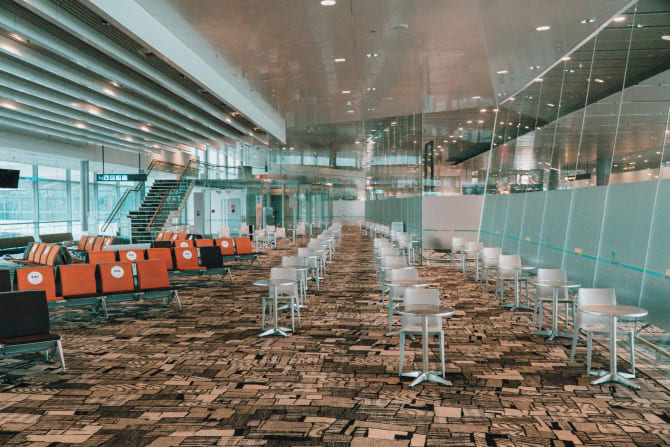 – Segregation of the workplace with strict access
controls between zones, and with no mingling of workers between
Zone 1 (highest risk) and the rest of the zones during shifts;
– Enhanced level of personal protective equipment
(PPE) for all workers in Zone 1, as well as
strengthened protocols for the donning and doffing of PPE with
regular training and audits to reinforce the right practices;
– Ensuring all workers in Zone 1 are fully
vaccinated; and
– Working towards daily non-invasive rapid testing
of Zone 1 workers at the end of their shifts.
A new zoning concept is being introduced based on
workers' risk exposure. Under this concept, the airport's
terminals will be segregated into three zones.
Airport workers in Zone 1 (the terminal piers,
arrival immigration hall and baggage claim hall) will be protected
in the highest-level PPE and segregated from other workers
throughout the duration of their shift.
As an added precautionary
measure, passengers from very high-risk countries will be escorted
to remote gates in Terminal 2 for immigration clearance and then
transported by bus out of Changi Airport directly to their
quarantine facility, without going through the operational
terminals.
Zone 1 workers will have their own dining areas
with individual seating, rest areas, reserved toilets and
dedicated PPE donning and doffing stations. Except during meal
times or when using the toilet, they will have to be fully attired
at the appropriate PPE level.
All Zone 1 workers will remain
within their work zone throughout their shift. Similarly, staff
working in Zones 2 and 3 will have to comply with the applicable
PPE requirements.
PPE for Workers
It is important for airport workers to know and
strictly follow the dos and don'ts of donning and doffing PPEs. To
achieve this, there will be additional training provided with
regular reminders from supervisors on PPE protocol. More audits
and spot checks will also be carried out.
As vaccination provides the individual with
protection and reduces the risk of transmission, only fully
vaccinated staff will be rostered for duty in Zone 1. Changi aims
to have more than 90% of workers in Zones 2 and 3 vaccinated in
the coming weeks.
A more robust testing regime will also be
introduced to give Zone 1 workers added peace of mind. In addition
to the Polymerase Chain Reaction (PCR) test every seven days,
interspersed with the Antigen Rapid Test on the third day, daily
rapid non-invasive testing to be carried out at the end of
workers' shifts is being planned. These measures will reduce the
likelihood of an airport worker infecting close contacts at home.
Cleaner Terminal Air
The existing ventilation system in the terminals
delivers one cycle of complete air change every 6 to 10 minutes in
general spaces, and every 3 minutes in the toilets, comparable to
the air change prescribed for swabbing test areas.
Since the onset
of COVID19 last year, the air-con system supply air filters have
also been upgraded from MERV-7-rated models to MERV-14-rated ones
which have higher filtration capability to better mitigate the
risk of virus spread in alignment with the COVID19 defence
guidelines published by the authorities.
To further mitigate the risk of airborne
transmission in Changi's terminals, the airport has installed portable air
purifiers with High-Efficiency Particulate Air (HEPA) filters
across key areas in the new segregated zones, focusing on more
contained spaces where staff and passengers dwell, such as staff
rest areas, changing rooms and gate holdrooms. These HEPA air
purifiers are similar to those used in hospitals to sanitise the
air.
See latest

Travel Industry News,
Video
Interviews,
Podcasts
and other
news regarding:

COVID19,

Changi,

Singapore.
Source link