(08 Apr 2021)
Banyan Tree has signed a hotel management agreement
with Pegasus Investment and Consultancy to operate a new Dhawa
resort in Quy Nhon, Vietnam.
Scheduled to open in 2023, the Dhawa Quy Nhon
Vietnam, inspired by paddy terraces and
sitting on 10.5 hectares of land, will offer 240 rooms spread out
on tiered platforms in
a step-down manner towards the seafront.
Mr Ho Kwon Ping, Executive Chairman of Banyan Tree
Holdings Limited, said, "As the world tourism gradually rebounds, this
signing marks Banyan Tree Group's continued growth and our second Dhawa resort signed in Vietnam. The Vietnam economy has proven its
resilience in the face of COVID19. This strategic partnership
highlights the like-minded collaboration and entrepreneurship of
two homegrown brands with strong overseas footprints. We are
excited to be working alongside our fellow Singaporean company –
Pegasus, on their mixed education tourism development."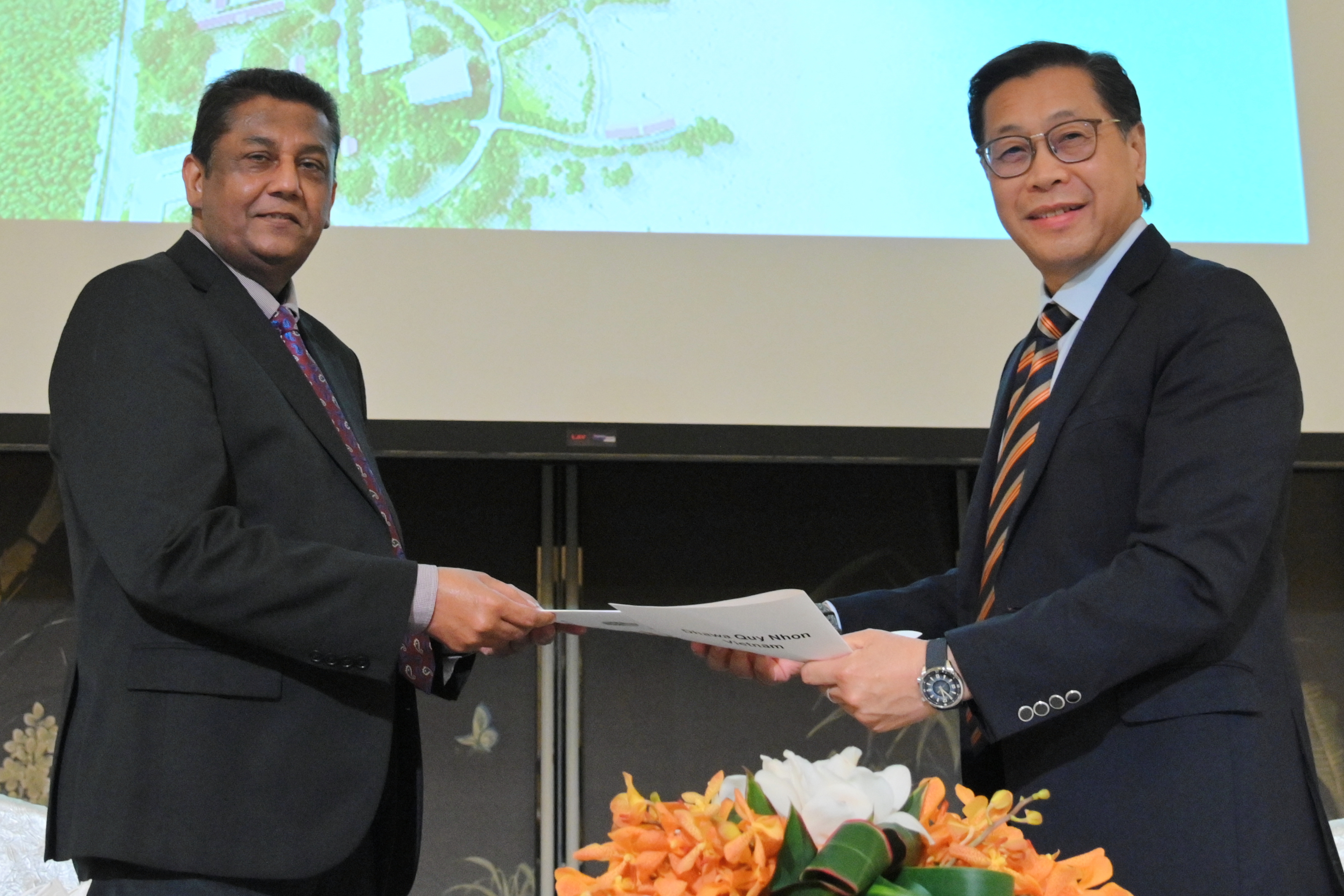 With an estimated total investment value of S$100
million, Dhawa Quy Nhon Vietnam is the second phase of Pegasus
Education Tourism Development.
The development's first phase kicked off with the
opening of Outward Bound Vietnam (OBV) in 2016 and its third phase will
comprise eco-residences.
Pegasus Education Tourism Development spanning
about 60 hectares with its own beach front is part of Pegasus
Chairman Mr Ricky Tan's vision to combine educational facilities
with resorts and residences.
Mr Tan said, "Pegasus Education Tourism
Development entrenches our long-term commitment and investments in
Vietnam. As a Singapore enterprise, our latest investment signals
our strong confidence in Vietnam's economic development and growth
prospects.
"Following the successful operations of Outward
Bound Vietnam, we are proud to be commencing the second phase of
development of Pegasus Education Tourism Development with a strong
partner in the internationally-recognised Banyan Tree Hotels &
Resorts to manage the resort under the Dhawa brand. We will offer
the first-of-its-kind resort situated in a mixed education tourism
development in Vietnam."
OBV is an outdoor
experiential education campus equipped with state-of-the-art
facilities and is licensed by Outward Bound International, where
summer campers, corporate staff and students take part in bespoke
training programmes to build character, leadership, and
camaraderie. OBV has partnered leading companies, higher
institutions (e.g. Republic Polytechnic in Singapore) and numerous
international schools in the region.
See latest

Travel Industry News,
Video
Interviews,
Podcasts
and other
news regarding:

COVID19,

Banyan Tree,

Pegasus,

Vietnam,

Dhawa.
Source link